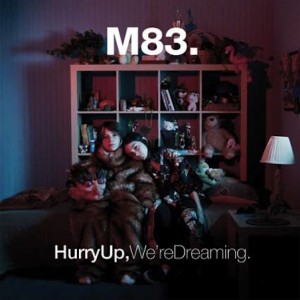 Several weeks ago, while watching HBO's "How to Make it in America," I heard this song playing during the end credits, reaffirming my belief that this show really knew what it was doing when it came to music selection. After quickly learning the song's name, I discovered the French artist Alexander Gonzalez, whose project,
M83
, recently released it's sixth full length album since 2001,
Hurry Up, We're Dreaming
. While 'Midnight City' is easily the best known song off this release, with it's
trippy music video
, it's just one of many amazing tracks. The rolling 'Intro' is one of the most inspirational sounding tunes I've heard in a while, and tracks like "Raconte-Moi Une Histoire" and "OK Pal" are simultaneously twisted and playful, all while alluding to the playful innocence of youth. The album as a whole is varied and dynamic, all the while touching on themes of playfulness and imagination. I'm definitely going to check out some of their earlier works, but only after giving all of these songs a few more play-throughs.
Enjoy
M83 - Midnight City
M83 - Intro
M83 - Raconte-Moi Une Histoire
M83 - OK Pal
*Image Courtesy of Virgin Records